What in the Fyre?! What's Really Going on With Fyre Festival?
We woke up this morning to a string of messages, photos, tweets and memes about the high end, exclusive Fyre Festival that was set for Exuma this weekend. At first glance it seemed the event was on and poppin' as the #FyreFestival was a trending topic on all  major social media platforms.
But as we started to read, it was crystal clear that all systems were not go for the music festival, which was supposed to "deliver a one-of-a-kind immersive experience in music, culture, art, culinary delights and luxury for an unprecedented event."
The plan was to take over one of the Exuma cays, fly in big name acts like Blink 182, Migos, Lil Yachty, Matoma, Claptone, and Le Youth for social media crazed millennials to party, drink and enjoy a Coachella like event in The Bahamas.
The event was even endorsed by popular models and celebrities like Gigi Hadid, Kendall Jenner.
Oh, and the pries were insane!
Partygoers shelled out up to $12,000 a pop for the "all-inclusive" experience. 
One of the event's biggest backers and organizers is rapper Ja Rule…who has yet to be seen or heard from. 
UPDATE: Ja Rule posted this around 2:30 p.m. Friday
But even before it started it seems the event descended into chaos, drama, claims of robberies, no food, people fighting for food, no rooms and accommodations, cheese sandwiches, fly infested tents, something akin to The Hunger Games…and of course the Internet went wild!
Social media has been ablaze all day with talks (and jokes) of the event that crashed before takeoff. Some having no pity for the "rich kids" who paid so much money for a festival they knew nothing about.
The story has even been picked up on every major news wire from CNN, Billboard Music, People Magazine, New York Post, CBS News and others. 
Of course soon after the media storm erupted the finger pointing began. The Bahamas Ministry of Tourism moved quickly to distance itself from the event and promptly put out a statement.
We are extremely disappointed in the way the events unfolded yesterday with the Fyre Festival.  We offer a heartfelt apology to all who traveled to our country for this event.  Tourism is our number one industry and it is our aim to deliver world-class experiences and events.  Hundreds of visitors to Exuma were met with total disorganization and chaos.   The organizers of Fyre recently asked the Ministry of Tourism for support for their private event. The Ministry of Tourism is not an official sponsor of Fyre Festival.  Given the magnitude of this undertaking, the MOT lent its support as we do with all international events.  We offered advice and assisted with communications with other government agencies. The event organizers assured us that all measures were taken to ensure a safe and successful event but clearly they did not have the capacity to execute an event of this scale.  A team of Ministry of Tourism representatives is on the island to assist with the organization of a safe return of all Fyre Festival visitors.  It is our hope that the Fyre Festival visitors would consider returning to the Islands Of The Bahamas in the future to truly experience all of our beauty.  
We visited the Fyre Festival website as well, and where colofurl photos of beaches, 5-star rooms and accommodations were, is now just a statement, explaining what had happened.
Fyre Festival set out to provide a once-in-a-lifetime musical experience on the Islands of the Exumas. Due to circumstances out of our control, the physical infrastructure was not in place on time and we are unable to fulfill on that vision safely and enjoyably for our guests. At this time, we are working tirelessly to get flights scheduled and get everyone off of Great Exuma and home safely as quickly as we can. We ask that guests currently on-island do not make their own arrangements to get to the airport as we are coordinating those plans. We are working to place everyone on complimentary charters back to Miami today; this process has commenced and the safety and comfort of our guests is our top priority. The festival is being postponed until we can further assess if and when we are able to create the high- quality experience we envisioned. We ask for everyone's patience and cooperation during this difficult time as we work as quickly and safely as we can to remedy this unforeseeable situation. We will continue to provide regular updates via email to our guests and via our official social media channels as they become available.

-The Fyre Festival Team

Here's the Thing!
From the onset so many things seemed amiss about this event and here are just a few observations.
STOP LEAVING BAHAMIANS OUT! – How many times are people gonna come to this country and think they could pull off an event without having Bahamians fully involved in what's going on? From being patrons, to being a part of the organizing committee, your event can't really pop without a local plug and the people. Many Bahamians were upset a few months back when the prices and packages for Fyre Festival came out, because without even saying it, it was evident the event wasn't geared towards us. Well looks like we dodged a bullet!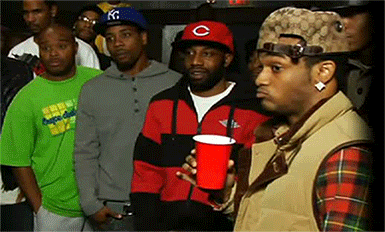 THIS LOOKS BAD FOR US! – Despite The Ministry of Tourism saying it was a private event and we really had nothing to do with it, this still leaves a stain on our country. All headlines we read, has "The Bahamas" somewhere in it and it is indeed a tourism nightmare. The statement really does little to help with the perceptions people are already gathering from this fiasco and the photos circulating do little to help! They don't show crystal waters and powder soft sand; they show wooden shacks, tiny tents on a beach, broken down cars and stray dogs! UGH! True or not, the stories of people being robbed and raped are already circulating and this is just not a good look!
THE INTERNET REMAINS UNDEFEATED! – Social media will really make you die with laughter! The memes, the stories, the threads, the jokes…Twitter and Facebook are literally comedy central today and it shows how creative people really get…even at the expense of others' misfortunes! LOL!
We're definitely keeping an eye on this story!
Share your fave memes about this music festival disaster on our Facebook page!
Check out these other great articles!